Subscribers: Profile enhancement
With the help of 'Profile enhancement' you can change the data of a specific subscriber group with just a few clicks.
This allows you to re-sort your data, merge information and make corrections. Triggers can be new insights about your subscribers that you have gained in the course of your email marketing.
Typical use cases are:
Change

subscriber list assignment

: Enter subscribers from one subscriber list and/or into another list. This allows you to combine multiple lists or split an overall list, e.g. based on a subscriber field "Language" into a DE and an EN list.

Enrich subscriber field: Record the current value of an interest or the current audience affiliation in a subscriber field.

Enrich interests: Enter interests for specific subscribers (target groups) that you have gained, for example, by evaluating a survey.

Assign voucher series: Assign a previously created coupon series to specific subscribers.
Step1: Subscriber selection
Profile enrichment consists of 4 steps that must be completed in one go. In step 1, select one or more subscriber list(s) as the source of profile enrichment. Additionally, you can specify a targetgroup, which can be further narrowed down by filters in the next step.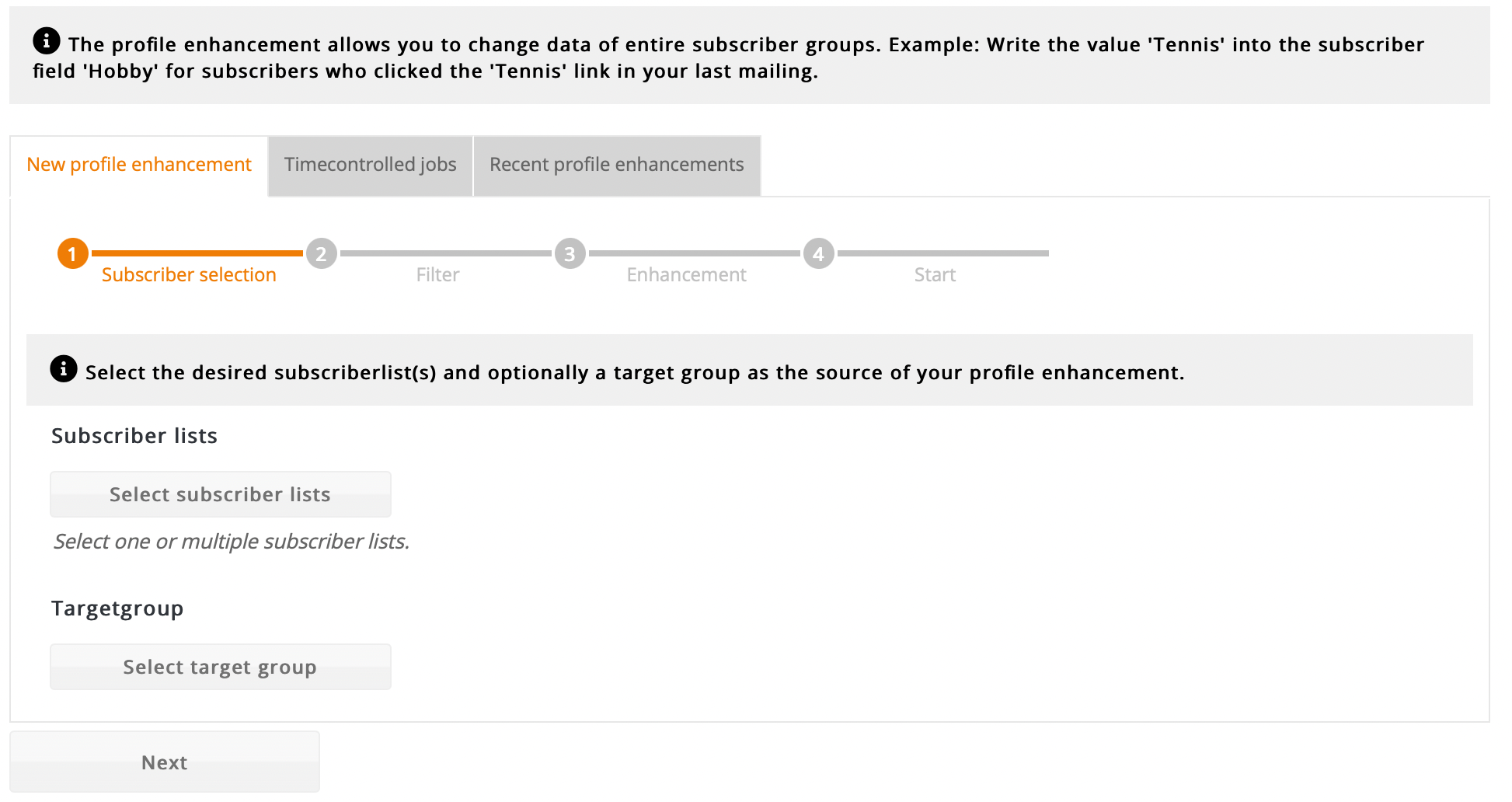 Step 2: Filter
If necessary, the subscriber selection from step 1 can be narrowed down even further by setting filters. The filters work like a target group. The following filter options are available:
Profile data: Filters subscribers based on a subscriber field value.

Receipt of a mailing: Filters subscribers based on the receipt or non-receipt of a standard or dialog mail. A subscriber has received the mailing if his email server has accepted the mail. However, it is also possible that the mailing has ended up in a spam folder, for example.
Opening of a mailing: Filters subscribers based on opening or non-opening of a standard or dialog mail.
Bounces in a mailing: Filters subscribers by bounces.
Clicks in a mailing: Filters subscribers based on their click behavior.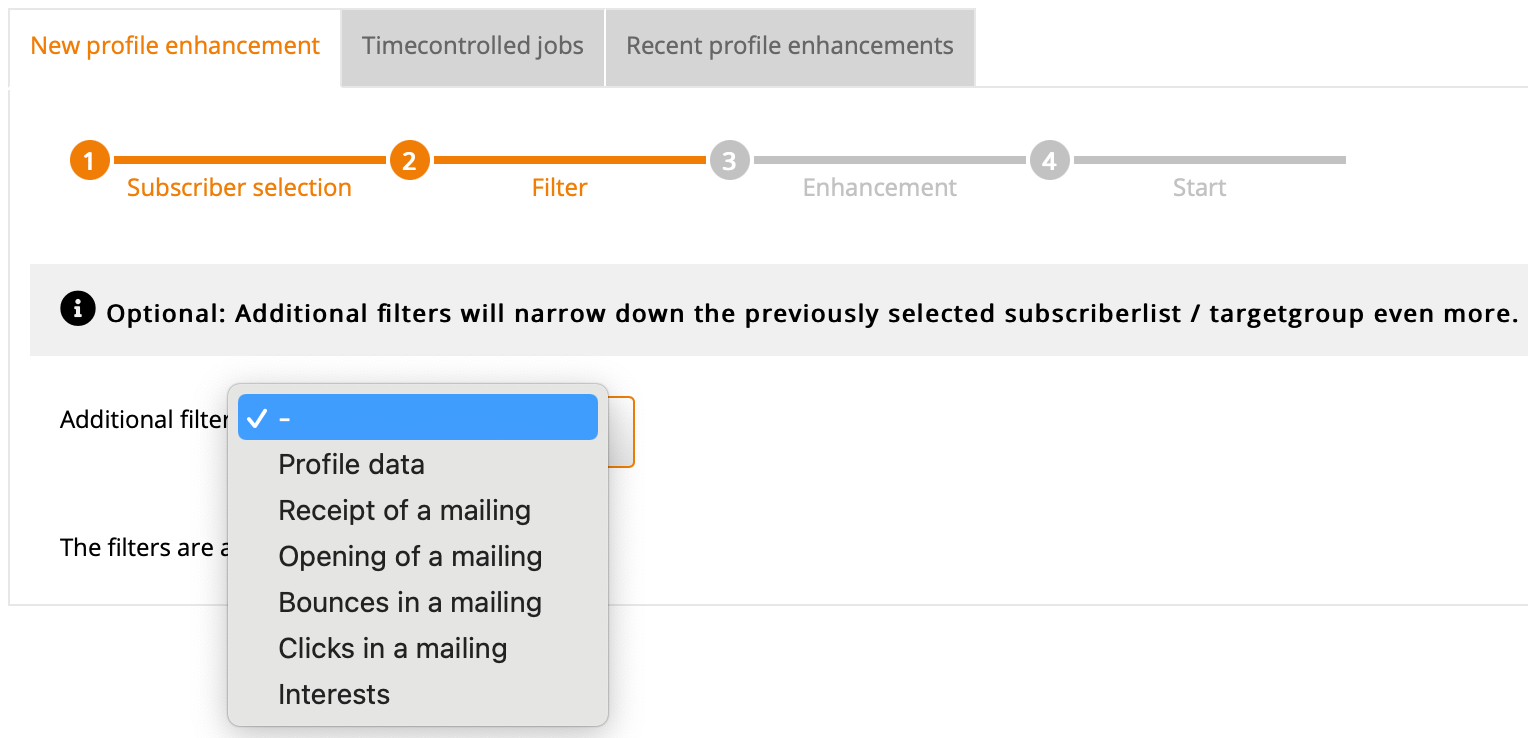 You can set multiple filters, which are all "and"-linked and thus only subscribers are enriched to whom all filters apply. You can also delete filters by clicking on the trash can at the end of each line.
You do not have to enter a filter if you want to enrich all subscribers of the previously selected list with a certain characteristic.
Step 3: Enhancement
Set the desired change of your subscriber data. You have the choice between four options: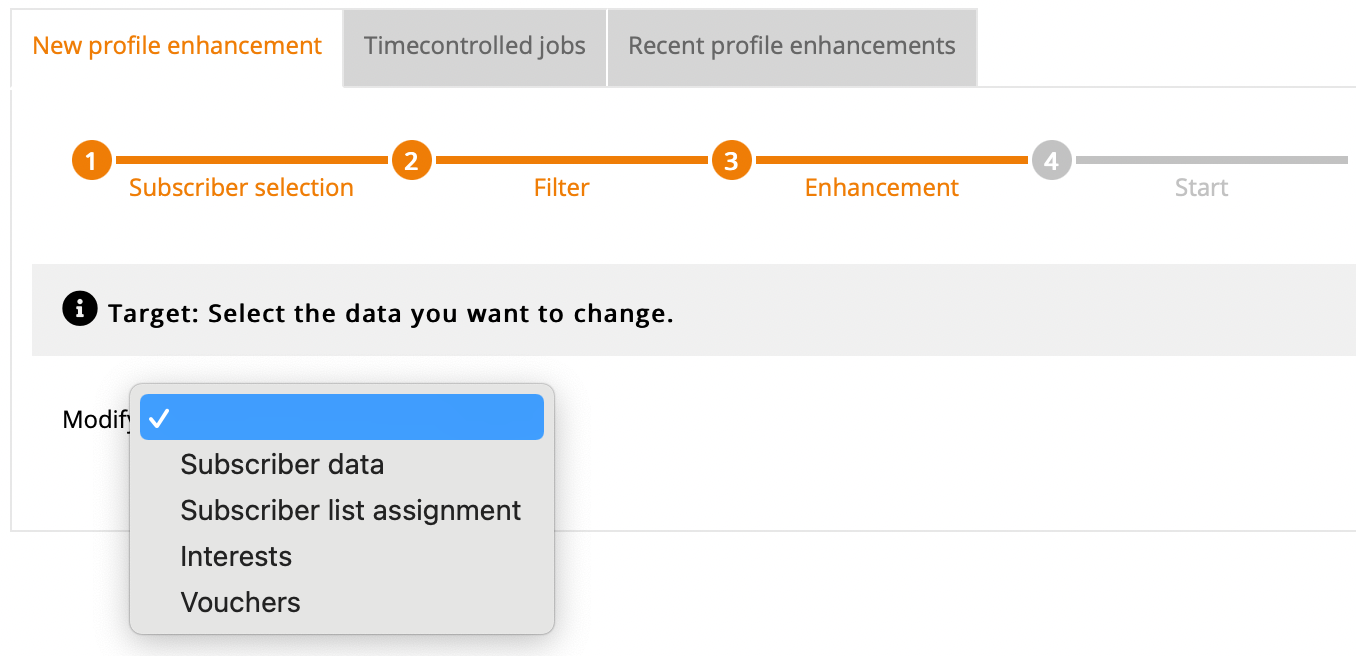 'Change to subscriber data': You can make changes to existing subscriber fields.
'Change subscriber list assignment':
'Change interests':
'Assign vouches':
Again, you can specify multiple changes in this step and delete them by clicking the trash can icon.
Step 4: Start - one-time or time-controlled
Check the summary data. If you want to start the set profile enrichment only once, click 'Start'.
In some cases, it may be useful to perform profile enrichment automatically at regular time intervals. To do this, open the lower section 'Settings for time-controlled profile enhancements'. Give the scheduled job a name and enter at least the desired start time and interval. If nothing is entered under 'End', the job will be run endlessly at the set interval.
After clicking 'Start' you will automatically jump to the 'Enhancement Jobs' tab. All your current and completed profile enrichment jobs are listed here.

The progress bar informs about the progress of the current profile enrichment, which runs in the background. After the job is finished, the  'Details' and 'Delete' links are available. Under the 'Details' link you get an overview of how many of your subscribers have been enriched.
Examples from practice
Example 1: Remove subscribers contained in subscriber list A and list B from list B:
In practice it happens that recipients with the same email address are contained in several subscriber lists, but are kept under different subscriber IDs, e.g. due to multiple imports, and are thus not the same subscriber for ###system_name##. Perform a 'Dublettenabgleich' with match field 'email' and then 'merge' over both subscriber lists. This will merge the duplicates found (subscribers with the same email address) under a single subscriber ID. This is the prerequisite for a target group 'is contained in list A and list B' to work, because only the subscriber ID is evaluated here. With this target group, you then start the profile enrichment and remove the subscribers found from list B.
Profile enrichment via campaign:permanent and automatic
The elegant alternative to the one-time or periodic profile enrichment in the 'Subscribers' menu is a permanently running 'Campaign' , which automatically and immediately reacts to new subscribers coming into the system via import or new registration by means of an 'Enrichment module'.