Status
Here you get a quick overview of the most important figures of your sent newsletters.In addition to the details of your sent mail, you see the openingrate, clickthroughrate and bounces in the form of barometers. Under 'status' you can export the statistics as csv-file. The summary, open- and clicktroughrate are cleary displayed.





MAILINGWORK generated based on the IP addresses of subscribers an overview of the 'local distribution'. If openings were counted in one country, this will be color coded. By clicking on the country a magnified view appears and cities become visible as points. The larger the dots, the more Openings were counted in this city. Move the cursor over an item, you see the Openings to the location. The data relate to the unique Openings (unique).

Please note that the openings can not be assigned always exact because the Internet dial-up point and the actual user location sometimes differ considerably.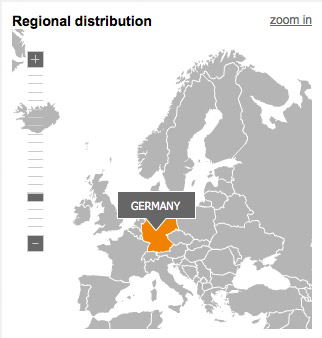 In addition to the distribution summary you find an overview of deliveries. A brief explanation of these figures:

Recipient: the total number of subscribers to which your mailing has been sent.
Invalid adsresses:  At invalid addresses arrive no mailings because the structure of the e-mail addresses is incorrect. For more information please read 'Invalid adresses'.
Blacklist: also called 'Robinson-list'. On these recipients no emails will be sent. Learn more at Blacklist.
List of complaints: If an recipient marks your mailining as spam in his inbox, MAILINGWORK get this information and registers it as a complaint.

Bounces: Bounces occur, when emails could not delivered in the inbox. Learn more about Bounces under 'clearing bounces'.

Deliveries: the total number of emails which received the inbox of the subscribers.

Furthermore MAILINGWORK shows the trend of the last mailings in seven graphics. For example 'openings', 'clicks', 'opt-outs' and more. 'Unique' stands for first-time openings, ' total' includes all openings (each initial and each additional)
Finally you find two charts: The first shows the 'top 5 links', the second the 'openingrate' of the mailing within ten days after the dispatch.



Openingrate
Data around the opening characteristics of the receivers is available in this tab. 'Unique' stands for first-time openings, ' total' includes all openings (each initial and each additional)

Clickthroughrate
Here you get the figures around the clickthroughrate of the receivers; the total number of clicks but also 'unique' (initial) clicks. Each additional click will be counted under 'total'.