Reports


The report- or expanded statistic tool is an additional tool which you can always add to your account.
With this tool you have the opportunity to perfom a target group-oriented analysis and set up your design. Furthermore you can generate a .pdf file including all necessary figures and send it automatically to your email inbox. How you set up this function please read under Mailings - E-Mail- E-Mail office- Advanced Settings.
To edit your design or the elements for the standard-report, please click in a first step on the button 'Edit Report Template'. Now you can edit the name and the description of the report template.

Under the tab 'Basic Settings' you can edit the name and the description as well.
By clicking on the tab 'Content' you now have the option to move the individual report elements using drag and drop. Also you can add or delete elements.
To edit the individual elements click on the corresponding 'edit button'. Afterwards a window opens in which you can determine the name of the element,  the description, the time period and the target group. When you have done all adjustments please confirm by clicking OK.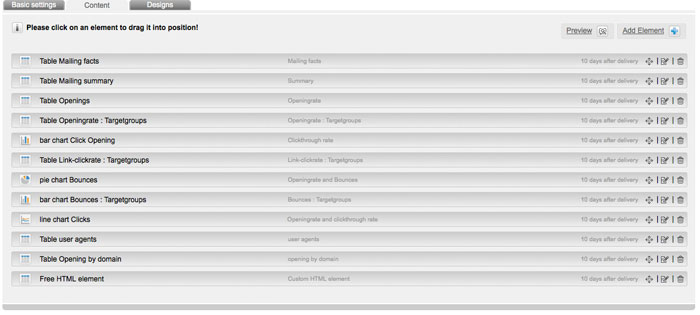 Now you also can adjust the design of your report. Choose the tab 'designs'. By default MAILINGWORK suggests you six different layouts. HTML experts can also open the 'advanced settings' below the layouts to edit the html-code. For example you can insert your logo in th header.
Have you done your desired modifications do not forget clicking 'Save'.
Now you can watch your individual report in the preview.