Share-With-Your-Network function
 
With the in MAILINGWORK integrated Share With Your Network function you can add a specific SWYN button to each of your articles. Hence you give your subscribers the opportunity to share their content on facebook, twitter, google+ & Co.
At first click on the tab 'share with your network' within the 'edit content' window.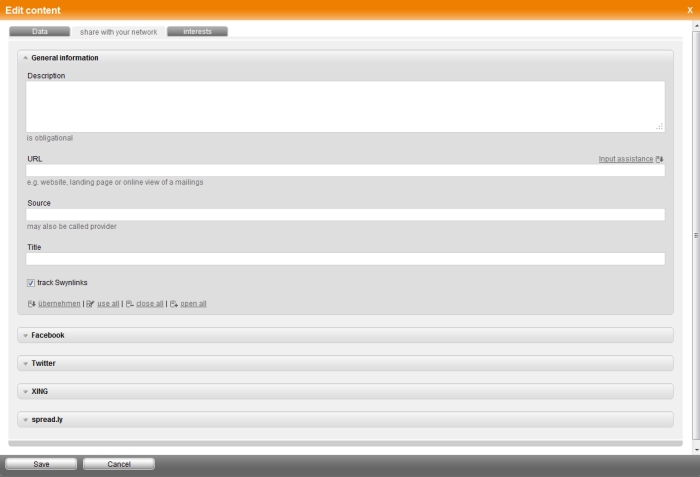 Now you have the opportunity to enter pre-adjustments for all social networks under the tab 'General Settings'. You can enter a description,  a URL (exact link), a source (e.g. www.google.de) and a title of an article.
By clicking on 'adopt' your data will be adopted in all swyn fields.
The completion of these fields is not mandatory. You also can enter the information separately in the respective area. Not every network needs such a specific source.
Now you can decide, which swyn buttons should be displayed. You can select each of the swyn fields or you 'use all'. In the e-mail preview will be shown only the selected icons.
By clicking 'Save' your specifications will be used. Please try these links on your own within your sent testmail.