Subscribers: Interests
You can record selected interests of your subscribers, assign certain contents of your newsletter to them and thus determine the order of the contents of your mailings that are particularly relevant for the subscriber.
Various settings are required to use this function. One is the creation of interests. You can then assign the contents of your newsletter to the interests. In the mailing statistics you will finally find a breakdown of the clicks per interest.

Via 'create' you can create new or further areas of interest.
Basic settings
Here you give the interest a name and enter a description (optional) for better orientation.
Advanced settings
In the next tab 'Advanced settings' you have the possibility under 'Automatic link assignment' to store a "pattern" for URLs, so that the system recognizes the interests in your content and can automatically assign them. For an automatic assignment, this pattern should be present in the URL on a recurring basis.

Example: There is an interest "cars". If now in the URL "/autos" is to be found, the pattern is recognized and the content in your newsletter is assigned to the interest.
The setting under 'Period' indicates how currently the interest and its value is to be treated in the subscriber data. For example, a click made today by the subscriber on a field of interest is rated higher than a click made 100 days ago. It is also possible to specify "-" here and this means that the value of an interest click does not drop.
Example: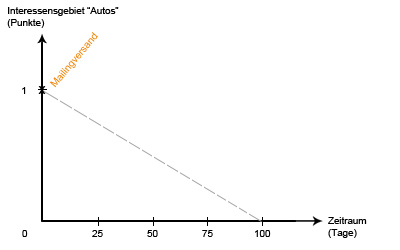 A subscriber clicks, in the mailing sent today, on the link to the field of interest "cars". Since you have assigned 1 point for this link, he will be credited with 1 point for this field of interest.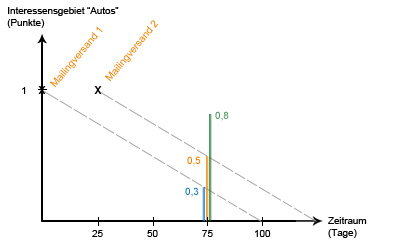 After 25 days the next mailing will be sent, which contains the interest area "Cars". Also here the subscriber clicks on the corresponding link on the same day of dispatch. 1 point will be added to his previous score for this field of interest.
On the 75th day after the 1st mailing dispatch the value of the interest sank with both left. With click 1 (mailing 1) the value is still 0.3, with click 2 (mailing 2) still 0.5. Altogether the interest area "cars" for this subscriber has thus a value of 0.8 on this day.