Tests
Having finished your newsletter, MAILINGWORK offers you numerous testing possibilities. This helps you to optimize your mailing and achieve maximum success before actual dispatch. You can get to the testing functions by choosing the tab 'Test' in the menu in which you edit your mailing. Following tests are available: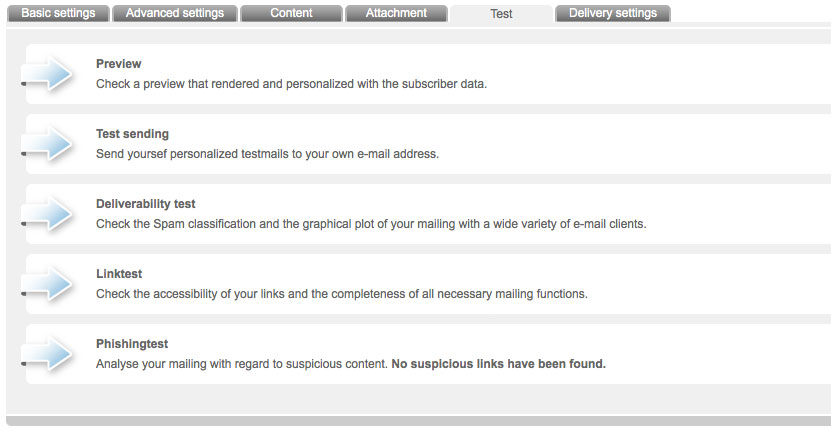 Preview
In order to get a preview of your newsletter, click 'Preview' in the 'Test' menu. A window with a preview will pop up.

Of course you can add more subscribers whose data you want to use for personalizing the preview. However, it is required that you already added a couple of new subscribers in your subscriber lists.
If you want to add more subscribers to this test, you have to click 'New Personalization' at the right upper corner. A menu pops up in which you can search your lists for subscribers by means of different criteria. Make a choice and click the button 'Search'. In the last step, you can select the subscriber from the search results. Finally, do not forget to click 'Save'. The new personalization possibility is available for you permanently in your selection.
If you created a multipart mailing, you can choose whether you want see the HTML or text part of your mailing by clicking the buttons 'HTML' or 'Text'. If you only created an HTML or text mailing, this according option will automatically be displayed.
Test Sending
By 'Test Sending' your mailing, you can simulate an actual sending. Hereby, dispatch will be to an address of your choice with a personalization, also chosen by you. This makes it easy for you to estimate how your reference line appeals in the inbox and how the mailing is displayed in your email program.
In order to make a test sending, click 'Test Sending' in the test menu. A window will pop up in which you can choose a recipient for the test dispatch and a personalization of the test. Here, you can also tick the 'Recipients' to whom you want that test mailing to be sent. For an easy start, your email address is already available.
Of course it is possible to create more test addresses which you can also tick and send the test mail to. It is again required that you have already entered a couple of subscribers in your subscriber lists. In order to create new recipients, click the button 'Create' on the right side, record the wanted email address and, finally, click 'Save'. Test addresses will be saved permanently. However, it is possible to delete each one separately in the survey.
At the bottom, you can choose the personalization of your test emails. You can again choose your individual personalization or any personalization you have already created in the course of the newsletter preview. Of course, it is also possible to create further personalizations at this point. In order to do so, click the button 'Create'. You can look up further information in the upper test about 'Preview'.
You will receive one test email for each personalization. If you choose, for example, three subscribers, 3 emails each will be sent to the 'Recipients' which are ticked. To start dispatch, finally, click 'Send'.
Deliverability Test
One barrier of your newsletter's way to its recipient is a spam filter. Furthermore, newsletters will be displayed incorrectly according to the structure of some email programs. You should still have full control of your mailing's success. Hence, MAILINGWORK has an included deliverability test.
For this purpose, MAILINGWORK maintains a variety of email accounts of well-known web and desktop mailing programs. One mouse click is enough to send your newsletters to those inboxes. The shipping solution automatically checks whether your mailing reaches the inboxes properly and is displayed correctly.
In order to start the test, click 'Deliverability Test' in the test menu. Subsequently, choose again a personalization. Here, it is also possible to add new personalizations to the already existing options. Having clicked the button 'Start', the test will be prepared. This may take a little while.
The deliverability test combines two testing sections: The tab 'Screenshots' leads you to your newsletter's display in different email clients. You can enlarge the thumbnails by clicking on them. In the tab 'Spam Check', you can find out whether your mailing can pass the important spam filters.
Your deliverability test will be saved right from the start. This means you can leave the testing surface of MAILINGWORK while screenshots and spam checks are issued. If you want to run through a new deliverability test, open the existing one and click on 'Discard Test'. Subsequently, you can start a new test.
Link Test
Using this test, MAILINGWORK automatically checks whether links and functions in your email work properly. This test's success will be recorded for you. Hence, you do not have to check all links in your newsletter manually for their function and can still be sure that everything works properly.
Phishing Test
The Phishing Test is also an entirely automatic test. With that option, your newsletter will be tested for whether the recipient's email programs could suspect it of phishing. It is possible that – even if you send trustworthy contents – the phishing filter of the subscriber's email program will be alarmed. Depending on the recipient's knowledge level, your mailing's success can be affected; your image as a trustworthy email marketer damaged.

In order to prepare your mailings in the best way, it is recommended to run all tests. Among other things, all functions should work; all links and attachments should be accessible. At the same time, your design should be displayed correctly by, possibly, all programs. Your mailing should neither be stopped by spam or phishing filters.