Opt-Out Matching
Data records of subscribers, who opted out their email addresses due to the fact that they do not wish to receive emails anymore, can be deleted from one specific or all lists with the help of this function. This function is especially useful after the 'Import'. By running an Opt-Out Matching you will ensure that opted-out subscribers will definitely be deleted from lists and do not receive any mailings anymore.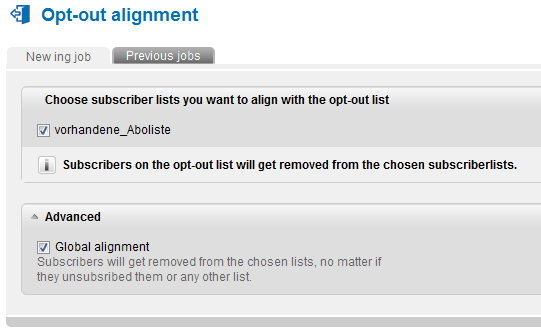 By choosing the option 'global matching', this function will be applied to all lists; otherwise, it will only be applied to one specific list. When choosing 'global matching', all opted-out subscribers will be deleted from all subscriber lists – even, if they are still registered in other lists. Having not chosen the global function, you have to decide for a specific list additionally. Considering the example of 'Newsletter MAILINGWORK', this means: Only the data records of 'Newsletter MAILINGWORK' subscribers are removed, whose subscribers 'opted out from the list' Newsletter MAILINGWORK'.
By clicking 'OK' you confirm the message which automatically leads to the deletion of the opted-out subscriber's data records.

Now, MAILINGWORK starts the matching and, after having finished, it informs you about the number of the deleted subscribers.