Dynamic Content
What is a dynamic content?
With the help of dynamic contents, you can specialize a landingpage to a specific targetgroup or a single subscriber. Those contents, which you've still defined for a specific targetgroup or a single subscriber, are visible just for relevant subscribers.

Let's take a look at an example: Through a survey you got specific information about your subscribers. You can divide your subscribers in female or male. Also you've got a link in your database, whose subscribers are animal owners or not.
In a new mailing to all animal owners, only men with an animal should see a specific dynamic content.


Create a dynamic content
Click 'create new dynamic content' and a new tab will open. Set your wanted settings.

In tab 'basic settings' you can enter a name for your dynamic content. You can enter a optional description if you like.



In tab 'variants' you can create multiple varainats of your dynamic contents. For this, click 'create' and a new tab will open.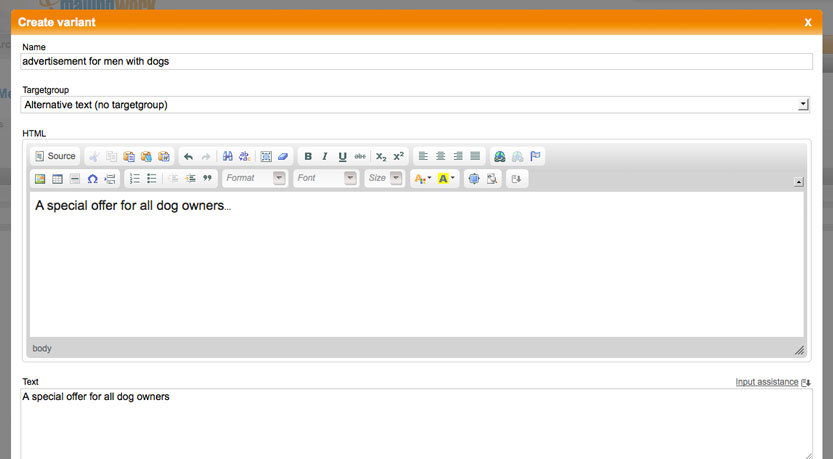 Here you can enter a name and chose a targetgroup, which you've created before. Create your html source code for layout of your dynamic content into 'HTML' and the alternative-text into 'Text'. Use the 'input assistance' to personalize your content, include images or set important hyperlinks (e.g. online view url). Don't forget to save your settings.
After creating your dynamic content, you have to connect this content with your mailing. Pick your newsletter and set the mousecursor at the position, where your content should be placed. Chose subitem 'dynamic content' by clicking 'input assistance'. There you will find your created content. Include your content into your newsletter by clicking on the name.