Email blacklist
You create a blacklist (also called Robinson list) in order to restrict email addresses from registering in you subscriber list. If a person tries to sign up for one of your subscriber lists, but has an email address that is registered in your blacklist, he will not notice the exclusion. Those addresses, however, which are already signed up for a subscriber list, will be excluded from dispatch directly after having been registered in the blacklist. Therefore, these subscribers will not receive any of your mailings anymore.




Create a new blacklist entry
After having clicked on 'Create New Entry', enter the respective email address. Along with single entries, you may, of course, enter entire groups. Consider the case you want to exclude all Yahoo-mail users in general. In order to do so, you only have to enter: '%@yahoo.de'. Optionally, you may also enter a description for your orientation.
Import
It is possible for you, to 'Import' email addresses from a CSV file in the blacklist.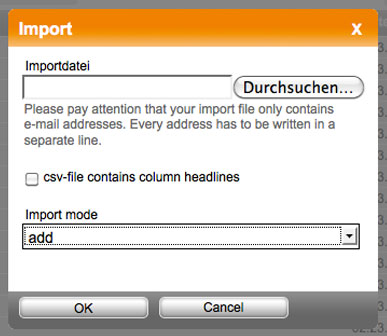 For this, you only have to choose the file from your computer, which is supposed to be imported. If this file contains column headings, mark the respective option. Then, you will only have to determine the type of import, 'Add' or 'Replace', and click on the 'OK' button. 'Replace' will delete the existing blacklist entries; 'Add' will copy new entries independently from those who are already registered in the list.
Export
With this function, you may 'Export' the blacklist in form of a CSV file. You may safe this file on your computer and software programs like Excel help you to access this file.