User
You can set up new users for your 'MAILINGWORK' account by clicking 'administration' - > 'user'. Editing or removing of users is also possible.
Requirement to add, edit or remove an user is that you must be authorised to do this. You have the possibility to login through another user without knowing his password. So you' ve got a fast access to other user-accounts and are able to set your modifications quickly.
Create a new user
Enter the email address of the certain user in tab 'basic settings' and set the language which should be used. 

Enter the right of your user in tab 'user roles'. Examples for 'user roles' are 'Administrator' and 'Redakteur'. If you determined further 'user roles' or edited an 'user role' you can chose them here.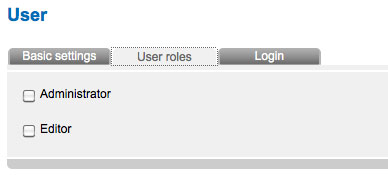 In last tab 'login' you just have to enter an username and a new password. Click 'Save' to save your settings.